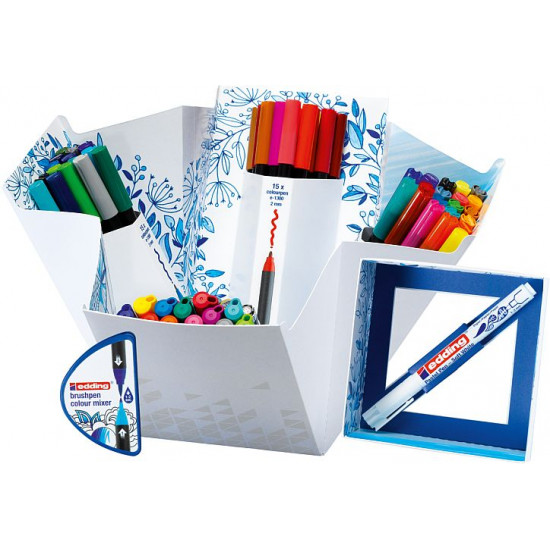 New
Edding Colour Happy Set, Big Box
Stock Status:

In Stock

Manufacturer: Edding
Model:

E-2927
This amazing, big box, set contains 69 Pens plus a Brush Pen Colour Mixer - Everything you need for perfect paper designs.
Set includes.....
20 x Edding 1340 Brush Pens - Mix up to 190 colours with just 20 Pens.
1 x Brush Pen Colour Mixer
30 x Edding 1300 Pens
12 x Edding 55 FineLiner Pens
5 x Edding 2185 Gel Roller Pens
1 x Edding 1800 Profi Pen
1 x 1500 Pastel Pen
Fantastic for Children, Budding Artists, Adult Colouring and Professionals, these high quality Pens will bring your creative ideas to life!
How to use the Brush Pen Colour Mixer
Firstly, clip the pen that you want to colour with at the bottom of the colour mixer. Then, slowly apply a different colour to the top of the colour mixer until the nibs are touching slightly. Hold upright! The longer the nibs are touching, the more colour passes to the lower pen. Normally between 1 - 2 seconds should be sufficient. Now remove the lower pen and off you go: Colour a larger area or create brush lettering with a vivid new colour effect!
Want to create a graduated rainbow effect? After you've applied your first colour, simply exchange the lower pen to the top position and add another colour to seamlessly create your stunning rainbow effect!
Find more inspirations, a short guide to brush lettering and how to use the brush pen colour mixer within the sleeve of the box.
Please note, the brush pen colour mixer is exclusively available in each of the Colour Happy Edition boxes. Happy Colouring!
*) Brush pen colour mixer: Manufactured under Licence. Patents EP1744907B1 and EP1992498B1.
For inspiration and ideas, visit Edding UK https://www.edding.com/en-us/products/edding-colour-happy-edition/